Ten prototypes were built between 1939 and 1941. Initial test results in 1942 were disappointing and the compressor air volume was increased by 30%. It wasn't until 1944 that the required 800 kp was produced. Production finally began in 1944, but due to developmental problems, full production was not achieved until early 1944.

    Two early BMW 003 engines were installed on the Messerschmitt Me 262 prototype on November 25, 1941. It was decided to keep the Junkers Jumo 210G engine on the nose for safety reasons and as it turned out, it was fortunate that they did. Just after takeoff, both turbojet engines failed and if not for the piston engine on the nose, the flight would have ended in disaster. The airplane just barely made it back to the airport.5

A Junkers Ju 88 was used as a testbed for the BMW 003 turbojet.
---
    The first successful test of the BMW 003 was in October 1943, when installed on a Ju 88. In 1944, the engine successfully powered an Arado Ar 234 and achieved a cruising altitude of 13 km.
    The 003 had a single-spool, seven-stage compressor with steel blades, an annular combustion chamber with sixteen fuel nozzles, and single stage turbine. The hollow turbine blades were constructed of two-millimeter steel sheeting and cooled by air bleed-air from the compressor.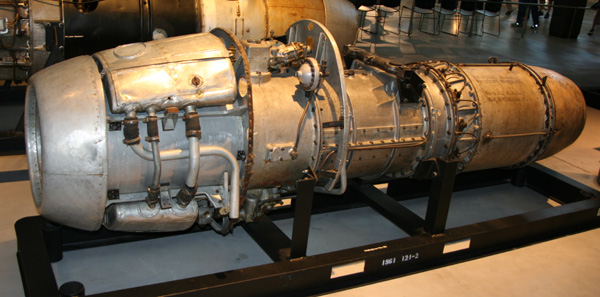 Ishikawajima Ne-20 turbojet.
---
    The Japanese produced a derivative, the Ishikawajima Ne-20, that was intended to power the Nakajima Kikka. After the war, BMW engineers who had emigrated to France, used their expertise to produce the SNECMA Atar. In Russia, the 003 formed the basis for the RD-20 which powered the Mig 9.
    Approximately 500 BMW 003 turbojets were produced before the end of the war but very few were actually installed on aircraft. By the end of the war, the BMW 003 produced 1,760 lbs. thrust.