This was faster than any other civilian airplane had ever flown before in the USA.2 News reporters jumped all over the military and peppered them with questions of how could an off-the-shelf airplane beat the best US military airplanes. Of course the reasons were not as simple as all that, but it was an embarrassment for the military just the same.

    The shock waves caused by the defeat of the military, would result in the total eclipse of the biplane in the Army and a few years later in the Navy.3 To illustrate the significance of the defeat, it may be worth noting that the Aircraft Year Book of 1929 details the National Air Races of 1928 when the participation of the Army, Navy and Marine Corps made an impressive showing. Two very modified Hawks were fitted with the new Curtiss D-12 Vee-type engine. Designated the XP-6 and the XP-6A, they finished first and second in the 1928 National Air Race.4 The Aircraft Year Book of 1930 hardly mentions the National Air Races of 1929 at all, except for the results of the entrants in the Appendix. It could be speculated that as representatives of US aircraft manufacturers, it was not in the best interest of the Aeronautical Chamber of Commerce to embarrass their military customers. For the military however, it was not for lack of trying. One has to consider that money for military aviation, between the wars, was very limited.5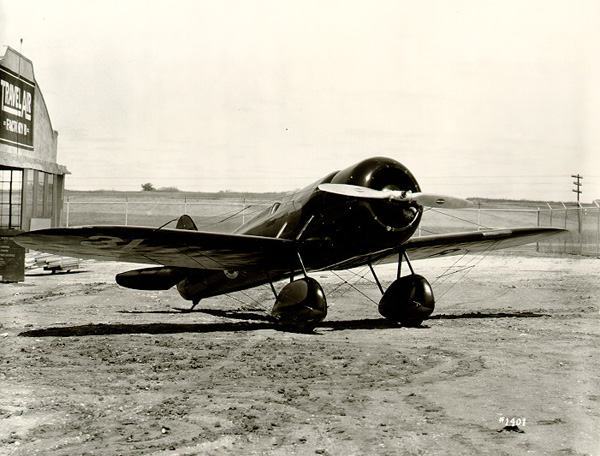 Travel Air Model R monoplane, "Mystery S" shown in front of Travel Air factory.
(Photo: Beech Aircraft Collection)
---
    The "Mystery S" had two interchangeable wings that were to be used for different types of racing. The short wing had a span of 29 ft 2 in (8.90 m), and the longer wing was 30 ft 6 in (9.30 m) with a 65 1/2 in (166 cm) chord. The short wing was used in the 1929 Cleveland race.
    The engine used in the race was a Wright Whirlwind (J-6 Series) R-975 rated at 420 hp (233 kW) at 2350 rpm. The empty weight was 1,485 lb (674 kg) and the full gross weight was 1,950 lb (885 kg). The length was 20 ft 2 in (6.15 m).6 The early production Wright R-975 Whirlwind J-6 engines were rated at 300 hp (224 kW) at 2000 rpm and later production models were increased to 450 hp (335 kW).7 A total of six Travel Air Model Rs were built—five were built by Travel Air and the sixth was built from an incomplete fuselage and other parts acquired from Travel Air. The Italian government was so impressed with the Model R that it purchased one as a model for future military designs.8
    In 1930, Capt. Frank M. Hawks ordered a Travel Air "Mystery S" powered by a Wright Whirlwind J-6 engine. It was given the license number 1313 and named "Texaco 13." His goal was to break the transcontinental record just set by Charles and Anne Morrow Lindbergh. The Lindberghs had made a spectacular flight on April 20, 1930 in a Lockheed Sirius, flying from Los Angeles to New York in 14 hours, 45 minutes and 32 seconds. They made one 20 minute refueling stop in Wichita Kansas, bettering the non-stop record set by Hawks in 1929 by 2 hours, 52 minutes, and 44 seconds.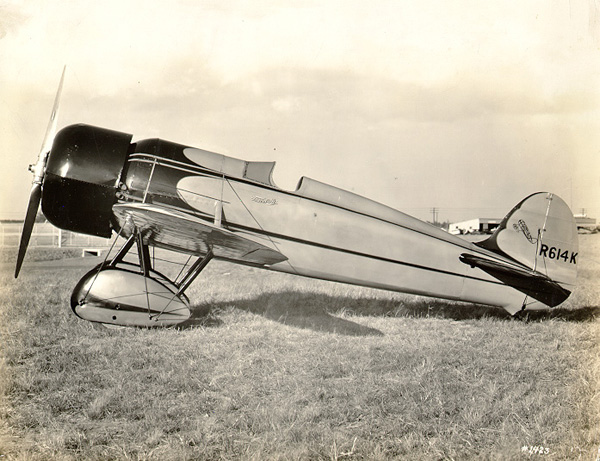 Travel Air Model R monoplane, "Mystery S"
(Photo: Wichita Photo Archives)
---
    On August 6, 1930, Capt. Hawks took off from Curtiss Airport in Valley Stream, Long Island at 6 a.m. (Eastern Standard Time) and set off for Los Angeles. Before he had left, he had joked with the mechanics that he was to meet his father for a game of golf at 4:00 o'clock that afternoon. Hawks made refueling stops in Columbus, St. Louis, Wichita, Albuquerque and Kingman and was greeted by his father in Los Angeles Municipal Airport at 4:50 p.m. (Pacific Standard Time). His elapsed time was 14 hours, 50 minutes and 43 seconds. Despite head winds, he had averaged 179 mph (288 km/h), often making 240 mph (386 km/h) to break Roscoe Turner's east-west record by 3 hours and 52 minutes. Hawks had previously broken Turner's 1929 record in a Lockheed Air Express by 21 minutes in 1929 and was now again the holder of the east-west transcontinental speed record.
    On August 13, 1930 Hawks turned his plane around and headed east towards Curtiss Airport in Valley Stream to break the Lindbergh record. He made refueling stops in Albuquerque, Wichita, Indianapolis and arrived 12 hours, 25 minutes and 3 seconds later to set a new transcontinental west-east speed record bettering the Lindbergh's record by 2 hours, 20 minutes and 29 seconds.9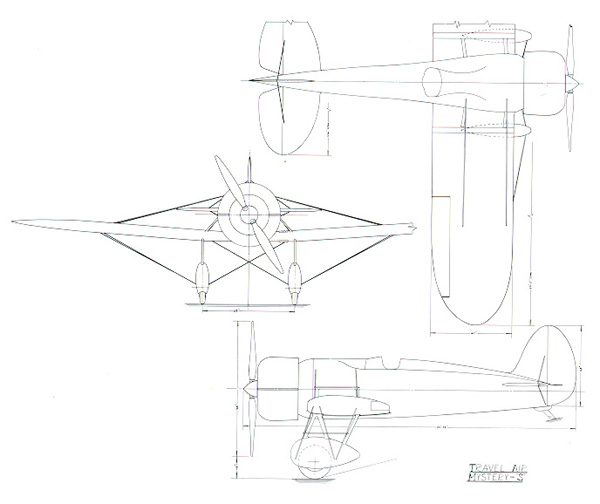 Travel Air Model R monoplane, "Mystery S" 3 view.
(Photo: Beech Aircraft Collection)
---