A fourth prototype (F.9569) appeared, powered by 360 hp (268 kW) Rolls-Royce Eagle VIII engines with enlarged rudders. This is listed as the Mk IV. The first production model was the Fiat powered machine, but the Vimy is best known for having Rolls-Royce Eagle VIIIs engines, which was the greatest production type.3

    The Americans were interested in the Vimy and requested to have Liberty engines installed. A trial installation was made, but it was destroyed by fire at Joyce Green.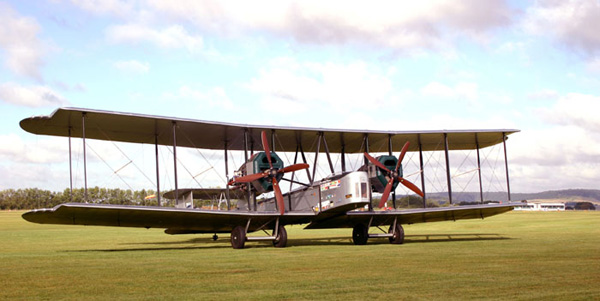 Construction was conventional, but the fuselage was made of steel tubing with a fabric covering. The forward section was wholly of steel tubing, while the rear center-section struts were hollow spars. The wings were in three sections with the center-section between the engines and the outer panels having a slight dihedral. Ailerons were horn-balanced on both upper and lower wings. The tail-unit was a biplane structure with twin rudders. There was a gunner's position in the nose and another behind the wings.
    The performance of the Vimy IV was excellent and had a top speed of 98 mph at 5,000 feet. Only one Vimy went to France during the war, but the war ended before it was able to be used in action. After the war, Vimys served with nine squadrons and training units at home in England, and overseas in Egypt. It was withdrawn from bomber squadrons in 1924 and was still in service up until the early 1930s, and was used as a parachute trainer. Eighty aircraft were later refitted with Bristol Jupiter or Siddeley Jaguar engines.4
    The Vimy is remembered more for its record breaking flights after the war. Alcock & Brown made the first transatlantic flight in a modified Vimy IV. The flight originated in St. Johns Newfoundland and landed at Clifden, Ireland with fuel for another 800 miles of flight left. The aircraft is preserved in the London Science Museum.
    A Vimy IV also made the first flight from Britain to Australia. The flight was flown by Captain Ross Smith with his brother Keith Smith as navigator and they were accompanied with Sergeants Bennett and Shiers as mechanics. They left Hounslow on November 12, 1919, and arrived in Port Darwin on December 10th, 11,000 miles away. The aircraft G-EAOU is preserved in a museum in Adelaide, Australia.
    In 1920, a Vimy attempted to make the first flight from England to South Africa. Wing Commander Pierre van Ryneveld, and Flight Lieutenant C. J. Quintin Brand left Brooklands, with two mechanics, on February 4, 1920 in the Vimy G-UABA named Silver Queen. They landed safely at Heliopolis, but made a forced landing 80 miles (130 km) from their final destination, Wadi Halfa, due to engine trouble. A second Vimy, named Silver Queen II, was lent to the crew by the RAF at Heliopolis, but was overweight and crashed at Bulawayo in Southern Rhodesia on takeoff. The flight was completed to Cape Town on March 20, 1920, in a D.H.9 lent by the South African Air Force.