The Fokker F.VII was a successful 1920s tri-motor airliner that was operated by many counties throughout Europe as well as in Africa, the Middle East, Asia, Australia and the United States. It also participated in several famous flights for such notables as Kingsford Smith, Amelia Earhart and Admiral Byrd. It could carry eight to twelve passengers plus a two-man crew. Construction consisted of steel tubing, fabric covering and laminated-wood covered wings. It was able to use a variety of engines that included the Wright Whirlwind, Gnome-Rhone Titan and Armstrong-Siddeley Lynx. More than 250 aircraft were produced and it made its inaugural flight on November 24, 1924.1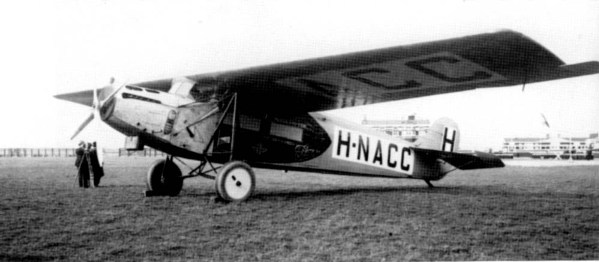 The original F.VII was designed as a single-engine airplane.
---
    The original F.VII was a single-engine airplane powered by either a 260 hp Rolls Royce Eagle IX, 450 hp Napier Lion or Bristol Jupiter engine. In 1925, the F.VIIa was powered by a 400 hp Packard Liberty engine and was demonstrated in the United States.
    While promoting his aircraft the United States, Anthony Fokker participated in the Ford Reliability Tour and produced a version with three 200 hp Wright J-4 Whirlwind engines. This was the first Fokker tri-motor and it made its inaugural flight on September 4, 1925. The airplane easily won the contest and approximately sixty-three F.VIIas and tri-motor F.VIIa-3ms were constructed. Eighteen airplanes were exported to the United States. Henry Ford took notice of the Fokker aircraft and this led to the development of the Ford Trimotor.