Additional aircraft production included three 6-AT-As powered by 300 hp Wright J-6 engines and one 8-AT freighter making the total production as 199 Trimotors. The 9-AT, 11-AT and 13-AT were conversions of either the 4-AT or 5-AT. The 10-AT and 12-A were unbuilt projects and the 40-seat 14-A was never flown.

    When the Trimotor was first built, the service life of the plane was only expected to be 2,500 hours.4 However, Trimotors remained in service long after they were expected to be retired, creating a testament as to the quality of and workmanship of the airplane. This set a new standard for the expected service life of future aircraft.

    The Ford Trimotor was of all-metal construction of three-layered "Alclad" aluminum sheeting. The sheeting core metal was duralumin which had coatings of pure aluminum on either side, making it highly resistant to corrosion, even at the edges and where it was riveted.5 This process created a material that was very durable and long lasting. The metal sheeting was also corrugated which provided additional strength, but also increased drag thus decreasing overall performance. Unlike most aircraft at the time, the flight controls were also all-metal rather than fabric covered. Flight controls were normally fabric covered to reduce weight and were easier to balance.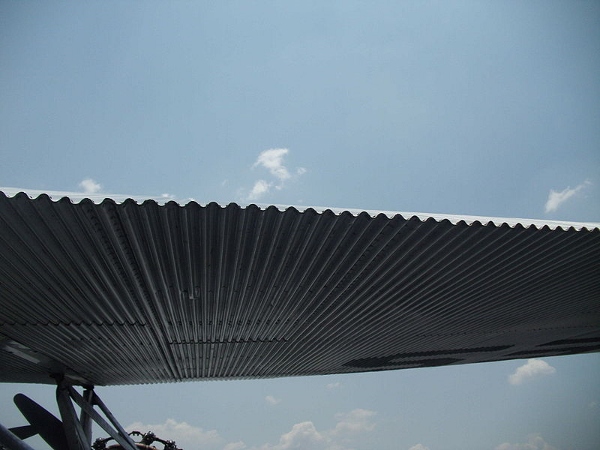 The Ford Trimotor's corrugated skin gave additional strength, but also increased drag.
    The airplane used simple systems that were easier to maintain and gave it a reputation for ruggedness. The flight control cables were routed outside of the fuselage as was common at the time and engine gauges were mounted outside on the engine cowling to be viewed by the pilot from the cockpit.
    The Ford Trimotor pioneered coast-to-coast airline service in the United States. Transcontinental Air Transport, the future TWA, provided regularly scheduled flights from New York to California. Not all of the trip was by air. Passengers would normally fly by day, and ride aboard sleeper trains at night. The journey took 48 hours. Pan American Airways used the Trimotor extensively in Central America and South American, and made their first international flights from Key West, Florida to Havana, Cuba. The Trimotor also served as military transports. The US Navy received nine of the 4-AT and 5-AT versions from 1927, while the USAAC received thirteen.6
    There were several notable flights for the Ford Trimotor. A Ford 4-AT Trimotor, named Floyd Bennett, flew on an expedition over the South Pole, led by Richard E. Byrd who was accompanied by three other men. The round trip flight took approximately 19 hours. Another Ford 4-AT Trimotor, serial number 10 built in 1927, made many notable flights by Charles Lindbergh and Amelia Earhart.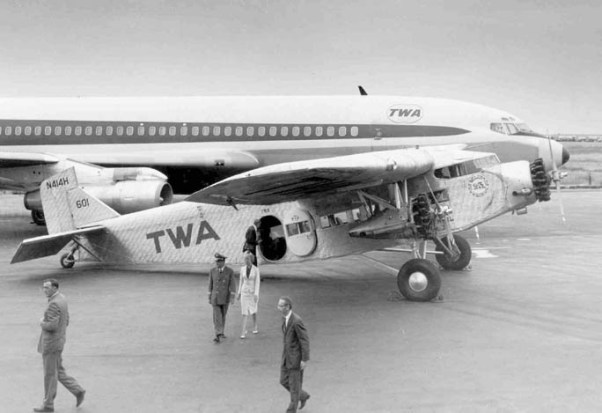 A Ford Trimotor placed next to a TWA Boeing 707 during a promotional tour (circa 1966).