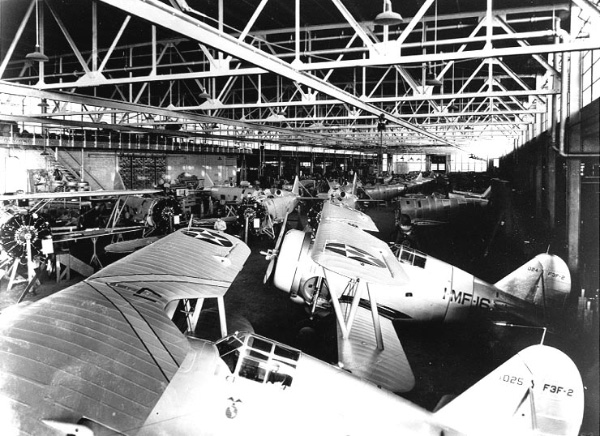 F3F-2 fighters at the Grumman factory, February 1938.
---
    In August 1935, the US navy placed a production order for fifty-four F3F-1s, with the first to be delivered in 1936 to Squadrons VF-5B (USS Ranger), and VF-6B (USS Saratoga), with whom they continued to serve until 1940.
    One XF3F-2 was followed by eighty-one production aircraft, making the F3F-2 was the most satisfactory single-place fighter developed for the US Navy to date. This model served with VF-6 (USS Enterprise) and with US Marine Corps Squadrons, VMF-1 and VMF-2.
    The F3F-1 was powered by a 650 hp Pratt & Whitney Twin Wasp Junior R-1535-84, 14-cylinder, twin-row, radial engine, while the F3F-2 and F3F-3 were powered with by a 950 hp Wright Cyclone R-1820-22, 9-cylinder, single-row, radial engine, resulting in an increased diameter of the engine cowling.6 Originally, both engines had approximately the same horsepower, but despite the larger diameter of the Cyclone engine, carrier take-off was faster and the climb-rate was higher due to the lower weight of the engine.7
    The final production model was the F3F-3, which was fitted with various propellers, split landing-flaps, modified cowling, and other devices intended to improve overall performance. Twenty-seven F3F-3s were delivered in 1938-39, which brought the overall production of F3F series aircraft to one hundred and sixty-four aircraft.8 Most of the F3F-3s went to VF-5 (USS Yorktown) or VF-7 (USS Wasp).
    By 1939, all US Navy and Marines Corps fighter squadrons were equipped with F2F or F3F series aircraft, and were not withdrawn from service until 1941. Afterwards they were relegated to training duties until November, 1943.9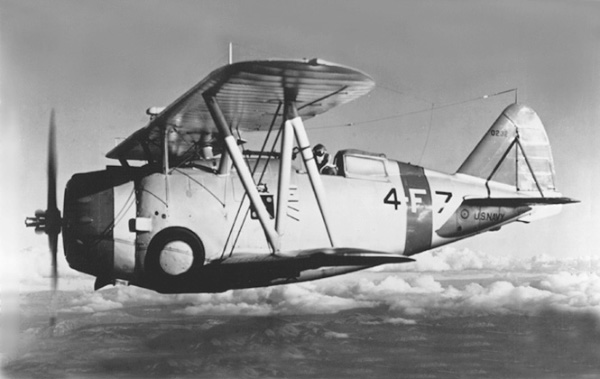 A Grumman F3F-1 in flight with a Twin Wasp Junior R-1535 engine.
Notice the difference in the cowling from the F3F-2 above.
---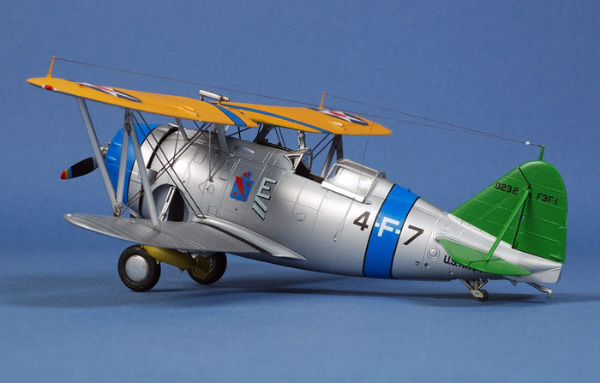 A scale model of the Grumman F3F-1 above.