The Ki-84 was a cantilever low-wing monoplane with fabric-covered flight controls. It had a slender and graceful looking fuselage which contributed to its aerodynamic performance. The early models were all-metal, but due to the scarcity of precious aluminum, the rear fuselage and other components were constructed of wood with the last three models being constructed of wood entirely. The smooth outside surface of the wooden models was surfaced with a thick coat of lacquer. The cockpit provided very good visibility and the windshield utilized armored glass for pilot protection. As well as protecting the pilot, steel armor was also used to protect the centrally located fuel tank and the methanol-water tanks used for engine emergency war power.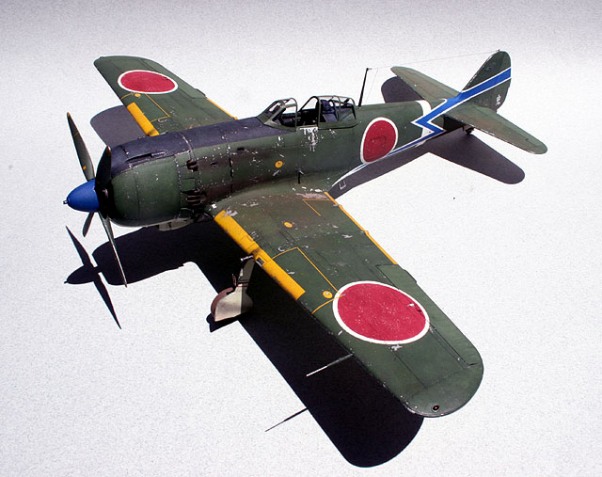 The Ki-84.
    It was powered by a 1,800 hp (1,342 kW) fuel injected Homare Ha-45, 18-cylinder radial engine. It was a very powerful engine, very much the equivalent of the 2,000 hp (1,491 kW) Pratt & Whitney R-2800 engine. However, the engine was rushed into production and suffered from fuel starvation which was eventually modified with a low pressure system. Other problems included a faulty hydraulic system and a weak landing gear that would snap during hard landings. Landing gear metal components were brittle due to a shortage of steel alloys and the airplane was plagued with inferior workmanship due to a shortage of skilled workers.
    The Ki-84 reached a maximum level speed of 387 mph (624 km/h) and in a dive was able to reach a top speed of 496 mph (687 km/h). It had an endurance of 1˝ hours and had a range of 250 miles. It could climb to 5,000 m. (16,405 ft.) in 6 minutes and 26 seconds and had a ceiling of 12,400 m. (40,680 ft.). It was also considered to be a relatively easy plane to fly, reducing time for training new pilots.
    The first batch of 83 airplanes was completed between August 1943 and March 1944. They were equipped with a centerline fuel tank and external bomb wing-racks to carry a total of 250 kg (551 lb.) of bombs. Service tests were conducted under operational conditions in October 1943. A second batch of 42 aircraft was started in April 1944. The centerline fuel tank was deleted and wing racks could carry either 44 liters of fuel or a total of 250 kg. of bombs. Total production was 3,382 aircraft in only 17 months and continued right up to the end of the war. This was no mean feat since production was constantly being disrupted by continual bombing from B-29 Superfortresses.
    In late August of 1944, the Ki84 first entered combat over China with the 22nd Air Regiment (this Regiment had been involved in the testing/training period of the new fighter). Initial results were excellent, catching the American Army Air Force pilots completely off guard. While a skilled Ki-84 pilot was evenly matched with the best US pilots and equipment, the majority of Ki-84s lost in the Philippine battles were destroyed on the ground. Overwhelming numbers of US planes controlled the skies and as time went on, the Japanese were soon fighting a losing battle.